Compressor and Equipment
Reliable control solutions
Equipment controllers use a combination of fixed and expandable I/O platforms to satisfy a wide range of customer performance and budget requirements. Configurability and optional features are built-in at the product level, so we can satisfy system requirements without the need for a custom design every time. System software is fully configured and undergoes full-functional testing before it leaves the facility, ensuring reliable, energy-efficient control.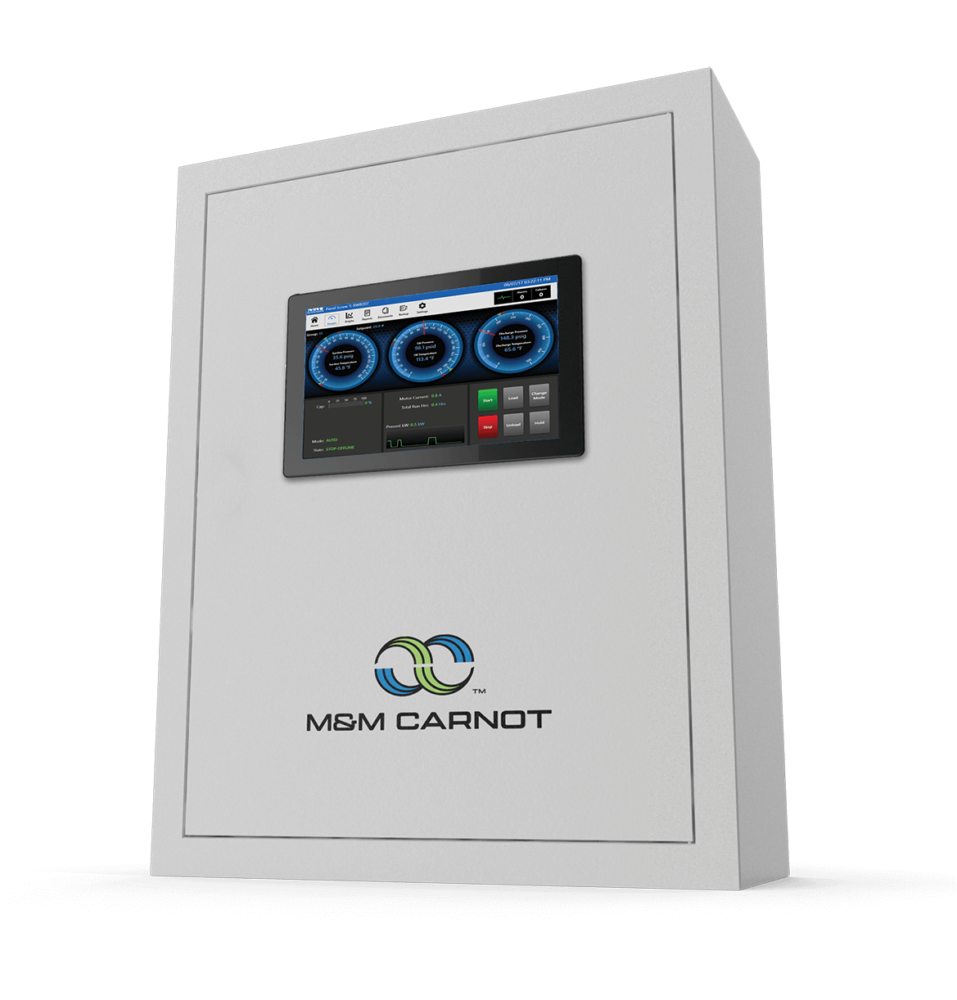 Screw and Reciprocating Compressor controllers
The M&M Carnot compressor controller product line consists of hardened microprocessor panels specifically designed for the demands of industrial refrigeration. These controllers support everything required for proper energy-efficient control of your screw or recip compressor from most manufacturers. The compressor controllers make retrofitting older refrigeration compressor controls easy – all while increasing energy efficiency, reliability, maintainability, and functionality.
V4 Screw Compressor Micro Controller
All information presented on a large display with an easy-to-use menu structure and real-time animated graphics
Updates available using industrial-grade USB drive
Utilizes Windows-based PC Enterprise platform with easy-to-use HMI interface
Industry standard communications for integration with the outside world (Modbus RTU or TCP)
Isolated RS-422 communications for connection to control network
Multi-level security system with user tracking
Designed to support future expansion
Reciprocating Compressor Micro Controller
Designed to meet the needs and budget of any customer
Extensive control flexibility, safety, security, and energy efficiency
Information clearly presented on the compressor's large LCD display
Easy-to-use menu structure
The NEMA 4-designed control cabinet consists of a door-mounted keypad and display, plus a high-efficiency universal power supply with a pre-numbered field wiring terminal strip
Multi-level security system with user tracking
Designed to support future expansion
Ice Rink
The standard ice rink control system covers single to multi-rink applications and includes controls for the refrigeration plant, subfloor warming, exhaust/ventilation systems, snow melt pumps, and lighting. Our Facility Planner Tool enables the rink operator to schedule floor temperatures and lighting for different activities up to a year in advance, taking all guesswork out of the operation.
Reliable, long-life microprocessor-based control system

Single or multi-rink operation

Local LCD graphic display and keypad

Local and remote access using PC Monitor Enterprise

Detailed logging and alarm reporting

Floor temperature monitoring via embedded or infrared temperature sensors

Compressor sequencing for efficiency and energy conservation

Condenser staging and Chiller control

Compressor and jacket cooling pump control

Ice temperature and lighting event scheduling

Subfloor warming, snow melt pump, and exhaust fan control

Optional facility interface using BACNet or Modbus
Industrial Split Packages
The single unit, split package control systems are off-the-shelf and can be field-configured for several options. A number of units can be connected to a PC Monitoring system with an Ethernet connection or serial connection, providing visualization at the floor level of your facility. Through PC Monitor Enterprise, room temperatures and evaporator/compressor status can be displayed and monitored. The zone control includes liquid feed runtime defrost, room temperature setpoint scheduling, fan cycling with temperature, and a fan-sampling feature that mixes room air to determine if cooling is required.
Reliable, long-life, microprocessor-based control system

Single unit control with up to two fans

Compressor monitoring and safeties

Automated temperature scheduling

Detailed logging for sensors, alarms, and failures

Optional local LCD graphic display and keypad

Local and remote access using PC Monitor Enterprise

Energy-efficient defrost methods and scheduling

A defrost queue limits multiple zones in defrost at same time

Air unit fan cycling based on temperature

Room fan sampling to avoid operation when not required

Power failure restart sequencing

Support for peak load shedding and scheduled load shifting